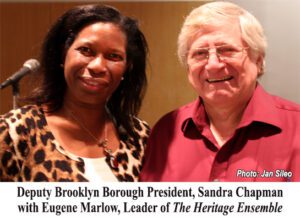 Deputy Brooklyn Borough President, Sandra Chapman, and several dozen community members came out Saturday, October 20, 2012 to enjoy the 2nd Annual "We've Got Rhythms" Celebration of Brooklyn's Cultures—produced and performed by Eugene Marlow's Heritage Ensemble.
The free concert held at the Brooklyn Heights Branch of the Brooklyn Public Library in Downtown Brooklyn, delivered "an afternoon of toe tapping, head nodding, body swaying music" said Chapman, "[it's] simply wonderful."
Here is what others said about the program which featured both musical performance and presentation about the music:
"Fabulous! You can feel the rhythms. It's electric and smooth."
Marcia G., Brooklyn
"Fantastic! Can be enjoyed by seasoned jazz lovers and novices alike."
Sara Wilbur, Brooklyn
"An international journey of jazzy musical poetry. What a pleasure!"
Anita Maldonado, Brooklyn
"It was excellent. Great food for the soul."
Renée Forte, Brooklyn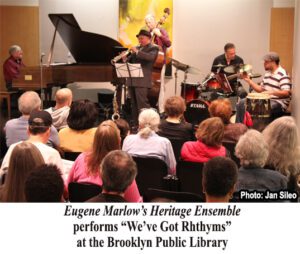 "Enjoyable. Fantastic—especially the audience participation and history."
Uda Bradford, Brooklyn
"Ecstatic. Extraordinary. Heavenly!  The best. Each musician was extraordinary."
Eva Browne, Brooklyn
"A gift from maestros of rhythms—so freely given."
Alvin, Brooklyn
"Excellent, Joyful, Beautiful."
Miss. H. Watson, Brooklyn
The program was made possible through a partnership with the Brooklyn Public Library and generous underwriting support from local businesses, including: Park Plaza Diner, All in One Food Mart, Concord Cleaners, and Piano Technician Peter Favant, among others. The program was produced by Eugene Marlow's Heritage Ensemble.