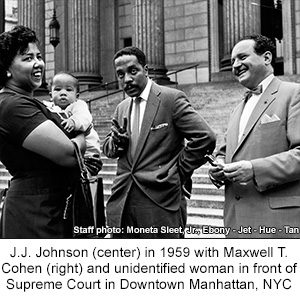 The Marlowsphere Blog (#86)
A few months ago I was continuing my read of Burton W. Peretti's highly readable and informative book Jazz in American Culture (Ivan R. Dee, Chicago, 1997) when I came across a sentence in the chapter "We Insist: Jazz Inside and Outside the 1960s" that floored me.
It read:
In the 1960s jazz musicians could sense a certain militancy in their own ranks. The major musicians' union locals were gradually integrating. In New York City the police department's discriminatory and harmful cabaret card system was overturned [this is the part that floored me] through the effort of entertainment lawyer Maxwell Cohen.
"Maxwell Cohen?!" I blurted out astonishingly to myself.  Maxwell T. Cohen was my uncle, albeit an uncle by marriage. He was married to my father's older sister, Cecilia. They had two children, my cousins: Rachel and Barbara.  Rachel designs jewelry; Barbara has a Ph.D. and works at the Library of the Performing Arts at Lincoln Center. This family greeted us on the pier in New York City after a five day trip across the Atlantic from Southampton, England when my family disembarked from the Queen Elizabeth I in the summer of 1953!
There were always occasional comments about my uncle by my parents. How he represented jazz icon Dizzy Gillespie at one time, for example. I recently learned he also represented iconic poet Langston Hughes. But there was always some contentiousness between Uncle Max and my father—himself a violinist, violist, composer, arranger, chamber orchestra leader, and occasional conductor with a child prodigy pedigree.
In retrospect the source of the stress between my father and Uncle Max was the cello. My father's father was a cellist—born in Kharkov in the Ukraine into a family of 11 string players. As a young man my grandfather, Boris Spivakowsky, left Russia, traveled to Italy and then to England. He was a cellist and a teacher. One of his pupils was John Barbirolli, who ultimately became British conductor and cellist Sir John Barbirolli. Uncle Max was self-taught on the cello.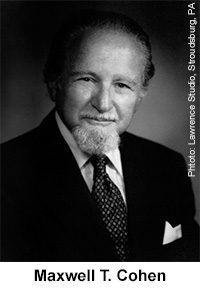 My vague adolescent recollection of Uncle Max's and my father's conversations about the cello was one of restrained one-up-manship. Max was an attorney who lived in Harlem, not far from 125th Street and what is now the Manhattan School of Music. My father attended the prestigious Guildhall School in London and had a successful musical career in England before, during, and after World War II. My father knew very little if anything about the law and business, but a hell of a lot about music, and especially string instruments. Uncle Max fancied himself to know something about music—after all, his wife, my aunt Cecilia, was a classically trained pianist—but he knew a hell of a lot more about law and business.
Which brings me back to the startling revelation that Uncle Max was historically important to the cabaret/jazz scene in New York City. In retrospect, it's no wonder I didn't know more about it given the tension between Max and my father.
Here's the background (from various sources) on my Uncle's role in the infamous "cabaret card" issue:
From Prohibition until 1967, a permit called the New York City Cabaret Identification Card was required of all workers, including performers, in New York City nightclubs. Their administration was fraught with politics, and some artists' cards were revoked on specious grounds. For many performers, the revocation of their cabaret card resulted in the loss of their livelihood. Those of Chet Baker, Charlie Parker, Thelonious Monk, Jackie McLean, Elmo Hope, Billy Higgins and Billie Holiday were suspended because of drug charges, and that of [comedian and social critic] Lenny Bruce for his reputed obscenity.
Burlesque dancer Sally Rand challenged the refusal to issue her a cabaret card, which was refused based on her alleged scanty attire. A judge overturned the decision as an "arbitrary and an unjustified act." The judge noted that the cabaret regulations took effect only after a card had been issued to a performer and warned Rand that her privileges could be revoked if she did not follow regulations. Jazz trombonist J. J. Johnson challenged the withholding of his card [with my uncle as his attorney] at the New York State Supreme Court in May 1959, and won the issue of a valid card.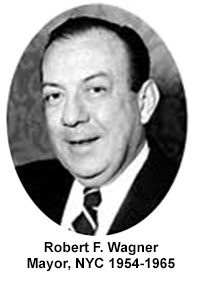 In 1960, [American comic performer] Lord Buckley died soon after his card was seized under mysterious circumstances. The ensuing scandal led to the abolition of the cabaret card system. Following the seizure of Buckley's card, [author and journalist] Harold L. Humes convened a "Citizens' Emergency Committee"—which included author Norman Mailer, [composer and multi-instrumentalist] David Amram, and [American neoconservative pundit and writer] Norman Podhoretz —in the apartment of writer George Plimpton. Humes and Maxwell T. Cohen [my uncle], Buckley's lawyer, confronted Police Commissioner Stephen Kennedy at a raucous hearing. In January 1961, Mayor Robert F. Wagner, Jr. announced that control of the cabaret card system would be removed from the New York City Police Department. The system was abolished in its entirety in 1967, with the New York City Council voting 35-1 to eliminate the required cards. The Council's discussion of the issue included the reading of a message from Frank Sinatra, who would not perform in New York City and had refused to apply for a cabaret card, citing the application and investigation process as "demeaning."
(http://en.wikipedia.org/wiki/New_York_City_Cabaret_Card)
Uncle Max wrote a book about this historical change in the New York City cabaret/jazz scene entitled The Police Card Discord (Scarecrow Press, June 1993). The book description reads as follows: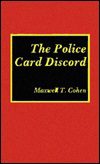 Cohen records a historic conflict ending in the 1960s between musicians and the police in New York. Harassed musicians and performers were joined by a 'Citizen's Committee' of famous writers and publishers to fight the City Police Department's arbitrary rules and regulations against musicians, performers, and other employees of hotels, restaurants, and cabarets, and its powerful highly publicized 'law and order' Commissioner Stephen Kennedy. Among the musicians were Bud Powell, JJ Johnson, Duke Ellington, Nina Simone, and Johnny Richards. Important social issues dominated several trials, detailed in this book. Ultimately, the musicians and entertainers won. The author writes from personal experience, since he was attorney for the musicians, the entertainers, and the Citizen's Committee.
His author's bio reads:
Maxwell T. Cohen, Professor of Constitutional Law and Sociology, Northampton (PA) Community College, taught law and social problems and issues at both SUNY and CUNY [Baruch College]. Cohen was awarded a plaque at the Newport Jazz Festival by the New York Jazz Museum for defending the civil rights of musicians and other performing artists. He was also cited and received an Award of Appreciation from the Society of Black Composers. Cohen's previous book, Race and Religion in Adoption Proceedings, was instrumental in the elimination of restrictive religious and racial laws in adoption and similar proceedings. He was awarded an Honorary Degree of Doctor of Laws by the State University of New York and an international Commendation for his work in international Human Rights by The Center for Research in Religious and Human Rights in Closed Societies.
I first knew my Uncle Max through the eyes of my parents, especially my father who colored my perception of my uncle. Yes, I still remember Uncle Max expressing himself in what at the time seemed tinged with a dash of pomposity. But now that I have waded through his professional credentials and accomplishments as a result of a serendipitous mention in a book published in 1997, I have a completely different view. If I had known, if my own family had been able to embrace and appreciate Uncle's Max's contribution to the jazz life of New York City, and if I had been more informed and mature at the time, I would have spent a lot more time with him.
I am overwhelmed and pleased to know that a family member of mine played a pivotal role in such an important issue and historic time in America's history.
Please write to me at meiienterprises@aol.com if you have any comments on this or any other of my blogs.
Eugene Marlow, Ph.D.
November 18, 2013
© Eugene Marlow 2013