Second Digital, Mini-Album from the  
"In Their Own Voice" Series
Lyricist/Vocalist Anne Mironchik Collaborates with Composer Eugene Marlow
Released by MEII Enterprises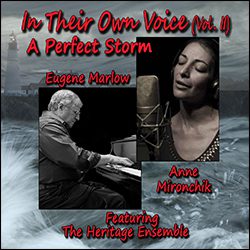 August 26, 2014—Today Eugene Marlow's MEII Enterprises indie label released the second digital only, mini-album in the "In Their Own Voice" series. This album features songstress Anne Mironchik singing "A Perfect Storm," based on a composition by Eugene Marlow. The lyrics are by Ms. Mironchik. Eugene Marlow's Heritage Ensemble is featured.
The first album in the series—released in mid-July–featured French lyricist/songstress Amelie Cherubin on three tracks with original music by composer/producer Eugene Marlow. Marlow's Heritage Ensemble is also featured.
Both mini-albums are available now for streaming or download at www.cdbaby.com
Marlow has produced over 240 jazz and classical pieces for solo instruments, chamber ensembles, and jazz big band.  Now for the first time he is collaborating with a highly talented cadre of female lyricists/vocalists—all the tracks/lyrics center on relationships and feelings from a woman's perspective.  Like much of Marlow's past work, the mini-album series is multi-cultural: the lyricists/vocalists come from many backgrounds, including American, Canadian, French, Hispanic, and Hebraic.
Marlow plans to release each of the mini-albums over a period of months starting July 14, 2014. Each album is now available for either streaming or download at cd.baby.com. 

About Eugene Marlow and Anne Mironchik
Click here for other CDs by Eugene Marlow