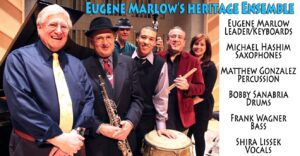 "For the Children" (MEII Enterprises 2015)
As a parent with two grown children and one grandchild (so far), the way we adults respond to and deal with the current COVID-19 pandemic will have an impact on the next generation, perhaps on several generations in the future.
In this context, I'd like to offer one of my Latin-tinged, original compositions "For the Children" (MEII Enterprises 2015) about hope for the future from my "In Their Own Voice" collection. The lyrics are by Janet Lawson, sung by "voice extraordinaire" Shira Lissek, with instrumentals by my Heritage Ensemble.
Please listen and enjoy this song dedicated to the world's children. Perhaps it will bring you some respite from the current crisis. It will be available free to stream on this site through April 30, 2020 (which happens to be International Jazz Day).
Eugene Marlow, Founder The Heritage Ensemble
Composer/Arranger/Pianist/Producer