In 2006 Eugene Marlow went to China (Shanghai and Beijing) to interview indigenous jazz musicians, among others, as part of research for a comprehensive book on Jazz in China: From Dance Hall Music to Individual Freedom of Expression. In 2018 the book was published by the University Press of Mississippi and acclaimed as one of the five best books on jazz by the Jazz Journalists Association. Dr. Marlow—who has produced several hundred video programs and garnered 30 awards for programming excellence—is now on the verge of completing a feature-length documentary that focuses on the 100 year history of jazz in China.  Marlow intends to release the documentary on International Jazz Day, April 30, 2021.
To see the documentary's trailer and to support this project please click here.
Andrew David Field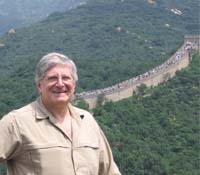 To learn more about
Eugene Marlow click here.
To learn more about the
Jazz in China Project click here.