The Jazz in China Book and Documentary Story
In early 2000 Professor Eugene Marlow, Ph.D. was asked by a colleague in the Department of English, Baruch College (City University of New York), if he would be interested in travelling to Shanghai, China to deliver a series of lectures on America media—newspaper, magazines, radio, television, cable, and the Internet. That summer Dr. Marlow was on a plane to Shanghai, China, looking forward to speaking to graduate and undergraduate students at the University of Shanghai School of Film and Television.
During this two-week trip Marlow was invited to a performance of the Peace Hotel Jazz Band in Downtown Shanghai—Marlow is himself a composer and jazz pianist. This performance sparked his curiosity to research the presence of jazz—an improvisational, democratic form of music—in a country with a 5,000 year history of adherence to a central authority.
In 2006 Marlow returned to China (Shanghai and Beijing) to interview indigenous jazz musicians, among others, as part of research for a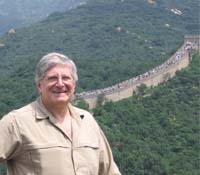 comprehensive book on jazz in China. In 2018 the book was published by the University Press of Mississippi and acclaimed as one of the five best books on jazz by the Jazz Journalists Association. Dr. Marlow—who has produced several hundred video programs and garnered 30 awards for programming excellence—is now on the verge of completing a feature-length documentary that focuses on the 100 year history of jazz in China.  Marlow intends to release the documentary on International Jazz Day, April 30, 2021.
To learn more about Eugene Marlow click here.
---
APRIL 26, 2021: The "Jazz in China" documentary was technically completed on April 19, 2021 (although there might be a few tweaks here and there). As mentioned below, the documentary has become an "official" event of International Jazz Day, April 30, 2021. More good news, Dr. Marlow was invited to comment on the forthcoming Montreux Jazz Festival to take place in Hangzhou, China in October 2021 for an article to be published in the South China Morning Post. He was also invited to draft a guest blog on his publisher's (University Press of Mississippi) web site to coincide with the official release of the documentary. On April 27, Marlow will be interviewed by Chinese Television. It will be aired in connection with the aforementioned International Jazz Day.
In May Dr. Marlow intends to manufacture DVDs of the documentary for further distribution. Showings at various festivals are targeted for fall 2021.
MARCH 1, 2021: The United Nations Educational, Scientific and Cultural Organization (UNESCO),  sponsor of the annual April 30 International Jazz Day, has invited Dr. Eugene Marlow, producer/director of the forthcoming feature-length documentary "Jazz in China," to announce the documentary's completion on its website as an "official event" of International Jazz Day 2021. There are jazz performances all over the planet on this day.  International Jazz Day is chaired and led by UNESCO Director General Audrey Azoulay and legendary jazz pianist and composer Herbie Hancock, who serves as a UNESCO Ambassador for Intercultural Dialogue and Chairman of the Herbie Hancock Institute of Jazz.
FEBRUARY 10, 2021: Tomorrow (February 11, 2021) we take an important step in editing the "Jazz in China" documentary. A few months ago I hired a crew in Shanghai, China to shoot short interviews with jazz club patrons at two leading clubs in Shanghai: the JZ Club and Jazz@Lincoln Center (JALC). Yes, the famed JALC in New York City (of Wynton Marsalis, Musical Director fame) has a club in Shanghai. The crew garnered over two dozen interviews. The kicker is all these interviews are in Mandarin. Tomorrow, we will overdub these interviews with the English translations at Onomatopoeia, a leading New York City audio recording/mixing studio. I've hired two voice over talents for the recording session. One for the male interviews, the other (obviously) for the female interviews. Next week another crew in Beijing will record interviews with jazz club patrons in China's capital. These interviews add credibility to the observation that jazz appeals to a young audience in China.
FEBRUARY 3, 2021: Several people have asked for some clarification on what the "Jazz in China" documentary is about. Here's the story:
"Jazz in China" tells the paradoxical 100-year story of how jazz–a democratic form of music–exists and thrives in China–a country with a long tradition of adherence to central authority. Through interviews with leading, indigenous jazz musicians, sinologists and historians in Beijing, Shanghai, and Guangzhou, the documentary reveals the significant influence of African-American jazz musicians and 20th century technologies on the spread of this democratic form of music that appeals to a largely young Chinese audience.
JANUARY 26, 2021: The editing of the "Jazz in China" documentary is proceeding. Dr. Marlow and his editor Kevin Schreck have virtually  completed editing what the various characters in the documentary have to say. Although it is anticipated there'll be some more refinements as the documentary nears completion. Now comes the job of dropping in B-roll: a truckload of archival video material and still graphics. So far, it looks like this documentary will run somewhere between 80-90 minutes. Ninety-nine percent of the interviews in the documentary were conducted via Zoom over the summer of 2020. Marlow and Schreck are making editing decisions also by Zoom in one-two hour sessions. By sharing his screen Marlow  can see what Kevin Schreck is accomplishing. The system works!
JANUARY 14, 2021: With the assistance of the fundraising arm of Baruch College (City University of New York) where Dr. Marlow has been teaching courses in media and culture for over 30 years, the college launched a fundraising site to help raise the $10,000 necessary to complete the "Jazz in China" documentary project. These funds are needed to cover the costs of editing, recording English voiceovers of Mandarin speaking interviewees in Beijing and Shanghai, China, an audio/music mix, color correction, and licensing. Contributors to the documentary will, at the very least, receive mention in the closing credits, among other possible rewards.
The central story of the "Jazz in China" documentary is the presence of a democratic form of music–jazz–co-existing in a country with a long history of adherence to a central authority–China–for the last 100 years!
JANUARY 2021: Producer/Director Eugene Marlow is working steadily with editor Kevin Schreck on editing the documentary into a 75-minute length program. Dr. Marlow is aiming to complete the documentary for release by April 30, 2021, International Jazz Day.
DECEMBER 15, 2020: In response to the call for a freelance animator to create a 10-second opening animation title sequence for the feature length documentary, producer/director Eugene Marlow received close to 300 resumes. Mo Qian was chosen out of this pool. Qian came up with just the right graphic concept for the opening title sequence: a horizontal Chinese scroll surrounded by still graphics of 18 of the "characters" included in the program. The title of the documentary is presented in both Mandarin and English. It was completed in late December 2020.
NOVEMBER 4, 2020: MEII Enterprises is looking for a freeelance graphic artist/animator to work with producer/director Eugene Marlow on the feature length jazz in China documentary. He and editor Kevin Schreck have been working on condensing many hours of at least a dozen new interviews conducted over the summer of 2020. The freelance graphic artist/animator will design and create a nine-second opening title, and work on numerous narrative billboards, transitions, and the closing credits. The chosen artist must be able to meld Chinese cultural aesthetics with traditional jazz icons. Dr. Marlow is looking to receive resumes and animation samples to his meiienterprises@aol.com email address. This freelance position is available immediately.
SUMMER 2020: Partly out of the constraints of the COVID-19 pandemic and partly out of a need to move the "Jazz in China" project forward, producer/director Eugene Marlow decided to use Zoom to conduct over a dozen interviews with leading jazz musicians and scholars for the project. Interviews were conducted in Beijing, Shanghai, Guangzhou, New York City, and various locations in the United States. Dr. Marlow was able to secure the services of two researchers to find individuals in these locations. The two researchers also conducted extensive research finding appropriate B-roll footage to be included in the show.
SEPTEMBER 2019: Dr. Marlow decides to completely reframe the documentary and essentially chuck most of what had been previously edited. He decides to focus the documentary on the 100 years between the time jazz first appears in China in the early 1920s to the present and to concentrate the interviews on leading Chinese jazz musicians (as opposed to the many ex-pats living and performing in China). This required a complete re-orientation of the what interviews needed to be re-shot and how. Ironically, the COVID-19 pandemic provided an answer.
AUGUST 2019: Dr. Marlow puts out a call for a video editor/producer to work with him on re-shaping his jazz in China documentary. Selects Kevin Shreck out of a pool of 12 candidates.
MAY 2019: Dr. Eugene Marlow presents a 30-minute rough-cut/sampler of his Jazz in China documentary (based on his 2018 book) at the Pitkin County Library, Aspen, Colorado.
APRIL 29: Dr. Eugene Marlow presents a 30-minute rough-cut/sampler of his Jazz in China documentary (based on his 2018 book) to students at a Feit (honors) seminar dealing with "Jazz: Cultural Touchstone of the 20th Century" at Baruch College (City University of New York).
APRIL 2019: The Jazz Journalists Association nominates Eugene Marlow's Jazz in China book as one of the five best books on jazz in 2018.
JANUARY 2019 UPDATE: The New York City Jazz Record lists Marlow's Jazz in China book as one of the "10 Best Jazz Books of 2018."
OCTOBER 2018 UPDATE: Two reviews of Jazz in China are in: Tom Cunniffe of Jazz History Online calls the book "a pioneering study." And Kevin Canfield, in the November 2018 issue of New York City Jazz Record, writes: "Jazz in China is a sweeping, informative work of history."
UPDATE: Author Dr. Eugene Marlow has been working for the last EIGHT months on a video documentary version of his jazz in China book. The documentary is due for release in 2020.
AUGUST 2018 UPDATE: The University Press of Mississippi releases the first edition of Marlow's Jazz in China: From Dance Hall Music to Individual Freedom of Expression
UPDATE: The New York Foundation for the Arts (NYFA) agrees to serve as fiscal sponsor for Eugene Marlow's documentary version of his book on jazz in China.
UPDATE: July 16, 2018: The University Press of Mississippi will release the first edition of Jazz in China: From Dance Hall Music to Individual Freedom of Expression. Author Eugene Marlow, Ph.D., reviewed page proofs in December 2017.
UPDATE: August 2014. A prospective publisher has sent out the manuscript for review.
UPDATE: June 2014. Eugene Marlow, Ph.D., recently completed an edited draft of his book on jazz in China. It is now a 100,000+ word, 20 chapter work. The manuscript has taken years to research–including a month-long trip in 2006 to Beijing and Shanghai to interview indigenous jazz musicians. Dr. Marlow hopes to have the book in the hands of readers by late 2015.

Jazz in China (working title) (copyright 2006) historically contextualizes, describes, and analyzes jazz in mainland China in the early 1900s (primarily in Shanghai), its partial demise in the mid-1930s following the invasion of China by the Japanese, its eradication following the later dominance of the Communist party, and then its re-emergence circa 1980 with the new vision of the Chinese government following the death of Mao Tse Tung in 1976.
Is there jazz in China?
The advent of jazz in China is an enigma. Chinese classical music bears only some resemblance to western music; on the other hand, European music (along with African musical traditions) forms the foundation for the development of jazz in the United States. Chinese culture–rooted in a strong nationalist feeling, especially since the King of Qin consolidated the nation in the third century B.C., and strong, highly traditional community feelings–bears little resemblance to western culture. Politically, economically, socially, China's cultural values are uniquely eastern and can be difficult for the western mindset to understand.
However, since Mao's death in 1976, China has been in the process of transition. As one Chinese citizen said during my visit to the University of Shanghai in May 2000, "The government's position is essentially 'Make as much money as you want, but leave the politics alone'."
In this context, jazz has grown as a "happening thing" in China, primarily in Beijing ( China's capital) and Shanghai. Of course, there's plenty of jazz in Hong Kong too, but Hong Kong's inclusion muddies the story. Hong Kong is essentially a western style city that only recently became part of the Chinese mainland.
The Jazz in China Project, therefore, focuses on the advent of jazz in a land that for thousands of years walled out and excluded western culture, but now appears to have embraced capitalism (at least) and other western cultural aspects, including jazz. The forthcoming 2008 Summer Olympics in Beijing is but one recent example of China's ostensible more open policy towards the west.
This apparent new attitude, however, needs to be seen in the context of China's history in the 20th century: from colonialism in the first third of the century, to Communism mid-century, to quasi-capitalism in the latter third of the century.
WalMart's recent announcement of the creation of 150,000 jobs in China, the growth of economic ties between mainland China and Taiwan (political saber rattling to the contrary), and a projected 10 percent economic growth in 2006, notwithstanding, China remains a country with a large peasant population; the real "modern" action is in the coastal cities, namely, Beijing and Shanghai and the metros that surround them.
Overall, the Jazz in China Project blends several cultural aspects from the 20th century: media and technology (such as phonographs, radio, and film, as well as steamships and planes); Chinese history (pre- and post-Mao); the Chinese music tradition; developments in jazz in America; and the jazz musician–from America, Europe, Australia, and the Middle East–experience in China.
Interviews with Chinese-born jazz musicians in Beijing and Shanghai will serve as the most intriguing element of the story.
About the Project
The Jazz in China Project juxtaposes two central elements: jazz (as a western cultural element) and Chinese culture (clearly an eastern culture). The combination of these two disparate elements makes for a compelling story.
In effect, the story of jazz in China parallels the story of China itself in the 20th century and the very early part of the 21 st century. For example, the introduction of jazz into China in the early part of the 20th century is a doorway into a description of China's evolution in the 20th century.
Many Europeans, Russians and Americans were present in Shanghai in the first quarter of the 20th century. These nations brought their culture with them—including jazz. With the jazz came other cultural values. For example, in Shanghai in the 1920s and 1930s racism was present. Even African-American jazz musicians (such as famed trumpeter Buck Clayton) ran afoul of American military personnel who violently expressed racist beliefs even though thousands of miles from the American mainland.
Shanghai was also a focal point of western colonialism in the 1920s and 1930s; eventually the anti-western feelings that evolved helped engender the rise of Chinese nationalism, Mao, and the communist party.
Even after Mao's death in 1976, the gradual return of jazz to the Chinese mainland parallels the initially cautious and then more rapid adoption of western style culture, such as capitalism, since 1980. In the last 25 years or so increasing numbers of jazz musicians from all over the world have traveled to China to perform. Similarly, China has grown more western economically, and more western companies have established economic footholds in mainland China.
Eugene Marlow, Ph.D., is the Jazz in China Project primary investigator.