var _gaq = _gaq || []; _gaq.push(['_setAccount', 'UA-36808393-1']); _gaq.push(['_trackPageview']);
(function() { var ga = document.createElement('script'); ga.type = 'text/javascript'; ga.async = true; ga.src = ('https:' == document.location.protocol ? 'https://ssl' : 'http://www') + '.google-analytics.com/ga.js'; var s = document.getElementsByTagName('script')[0]; s.parentNode.insertBefore(ga, s); })();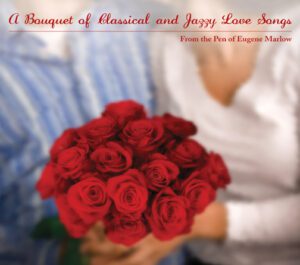 A Bouquet of Classical and Jazzy Love Songs From the Pen of Eugene Marlow
This album is a "Bouquet" of 12 original love songs–six neo-classical pieces for solo piano, and six jazz and Latin-jazz pieces for jazz combo–composed by Eugene Marlow. (MEII Enterprises © 2009)
Eugene Marlow, Ph.D.—award-winning composer/arranger, producer, presenter, author, journalist, and educator–has composed close to 200 jazz and classical (including electronic) pieces for solo instruments, chamber ensembles, and jazz big band.
Marlow has produced four critically acclaimed CDs of original compositions/arrangements (two jazz, one classical, one Latin-jazz) on the MEII Enterprises label that collectively have been distributed to radio stations in over 22 countries, including the United States. His latest album, "Wonderful Discovery," was noted as ". . .one of the best Latin-jazz albums of 2007." His composition "El Aché de Sanabria" was recorded by Bobby Sanabria's big band on the Grammy-nominated album "Big Band Urban Folktales" (JazzHeads 2007).
Dr. Marlow is senior co-chair of the Milt Hinton Jazz Perspectives concert series at Baruch College (The City University of New York) where he teaches undergraduate and graduate courses in media and culture. He is former Director, Media Relations of the New York Composers Circle and recently appointed treasurer of the Jazz Journalists Association. He is also a voting member of the National Academy of Recording Arts and Sciences. Marlow is a regular contributing editor to www.jazz.com and is drafting a book on jazz in China.
Reviews
Coming soon…